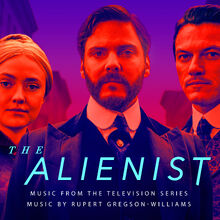 The Alienist Soundtrack is the official score of TNT original limited series 'The Alienist.' The official score is composed by Rupert Gregson-Williams, who is already a composer of remarkable soundtracks such as The Crown (2016), Hacksaw Ridge (2016) and Wonder Woman (2017) among others.
The Alienist Official Music Score
Edit
"The Alienist" featuring score was digitally released on January 26th, 2018. It's available on Spotify, iTunes, and Amazon.
The Alienist
No.
Title
Performer/Composer
Lenght

01

Streets of New York

Rupert Gregson-Williams

4.15

02

Roundsman

Rupert Gregson-Williams

0.52

03

Dr. Laszlo Kreizler

Rupert Gregson-Williams

2.53

04

On The Case

Rupert Gregson-Williams

1.13

05

Brooklyn Bridge

Rupert Gregson-Williams

3.55

06

Sarah

Rupert Gregson-Williams

2.40

07

Closing In

Rupert Gregson-Williams

3.54

08

Another Boy

Rupert Gregson-Williams

3.07

09

Eyes and Tongues

Rupert Gregson-Williams

4.37

10

Mary

Rupert Gregson-Williams

3.51

11

Politics of Policing

Rupert Gregson-Williams

1.34

12

Independent Investigation

Rupert Gregson-Williams

2.39

13

Madness of the City

Rupert Gregson-Williams

2.39

14

Irish

Rupert Gregson-Williams

3.17

15

Matter of Time

Rupert Gregson-Williams

3.11

16

Trance

Rupert Gregson-Williams

1.15

17

Man of the Flesh

Rupert Gregson-Williams

2.13

18

Alienated Mind

Rupert Gregson-Williams

2.51

19

Jesse Pomeroy

Rupert Gregson-Williams

3.22

20

Look Inside

Rupert Gregson-Williams

3.56

21

The Facts

Rupert Gregson-Williams

1.55

22

Cyrus

Rupert Gregson-Williams

1.20

23

Dispatch

Rupert Gregson-Williams

2.16

24

The Alienist (Main Title)

Rupert Gregson-Williams

0.35
References
Edit