Welcome to the TNT Suspense Collection Wiki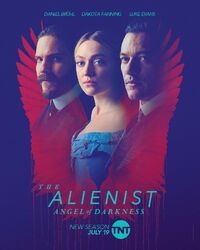 Having opened her private detective agency, Sara reunites with Dr. Kreizler, the formidable alienist, and John Moore, now a New York Times reporter, to find the Spanish Consular's kidnapped infant daughter. Their investigation leads them down a sinister path of murder and deceit, heading towards a dangerous and elusive killer. The series shines a light on the provocative issues of the era – the corruption of institutions, income inequality, yellow press sensationalism, and the role of women in society.
The Alienist: Angel of Darkness premiered on TNT on July 19, 2020.
TNT's Suspense Collection is an anthology series taking viewers into the darkest corners of well-crafted suspense as the ultimate form of compelling drama. The anticipation of what's to come taps into the deepest parts of our imagination. Suspense hooks us, immerses us, thrills us, and pays off with a twist we never see coming.
A Word of Warning — Given the premises of the Suspense Collection, this Wiki contains mature content that may include coarse language, sexual references, graphic violent descriptions and images which may be disturbing to some. Please, keep it in mind when visiting this Wiki if such content makes you uncomfortable.
TNT's Suspense Collection
The Alienist & Angel of Darkness
Set in 1896 amidst a backdrop of vast wealth, extreme poverty and technological innovation, when a series of gruesome murders of boy prostitutes has gripped New York City. Newly appointed top cop Theodore Roosevelt calls upon Dr. Laszlo Kreizler, a criminal psychologist – aka alienist – and newspaper illustrator John Moore to conduct the investigation in secret. Joining them in the probe is Sara Howard, a headstrong secretary at Police Headquarters, and Lucius and Marcus Isaacson, detective sergeants employing scientific methods.
The Alienist is TNT's first Suspense Collection drama, and Angel of Darkness is its sequel.

I Am The Night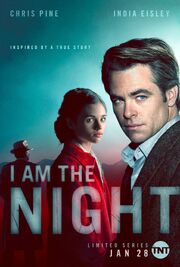 The incredible true story of Fauna Hodel, a teenage girl given away at birth, growing up outside of Reno, Nevada. As Fauna begins to investigate the secrets of her past, she meets Jay Singletary, a ruined reporter haunted by the case that undid him. Together they follow a sinister trail that swirls ever closer to an infamous Los Angeles gynaecologist, Dr. George Hodel, a man involved in some of Hollywood's darkest debauchery, and possibly, its most infamous unsolved crime.
I Am the Night is TNT's second Suspense Collection drama.


About the wiki

The TNT Suspense Collection Wiki is an encyclopedia created by fans, for the fans, and is dedicated to housing a useful and informative encyclopedic database for all subject matter related to the TNT's Suspense Collection.
Sign up
for a free account and start
editing
today!
News Feed
Social Media
Affiliates



Helping Out

Our goal is to collaborate with other fans in order to build a reliable, accurate resource with information about episodes, characters, and story elements. All are welcome to join in and contribute here, so long as edits are constructive, discussions are positive, and both are relevant to this series.

---
---